Logs
Webcampak constantly records its background activities and store those in files available from the desktop interface. Those can be accessed by clicking on "Webcampak > Logs"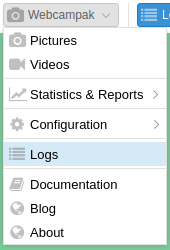 Overview
This simple feature runs 3 background commands to identify devices connected to Webcampak, a refresh button on the top-right corner let users manually trigger a refresh (for example after plugging a device).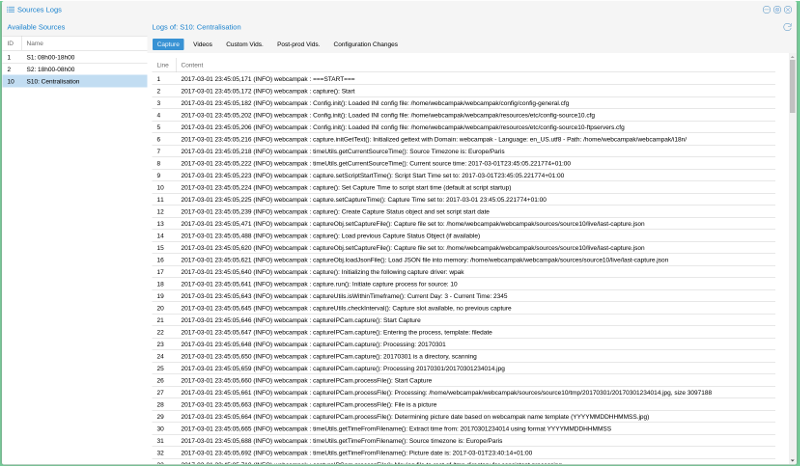 Log Rotation
Webcampak record a very large portion of its background activities.
Working on the assumption that logs are useful to debug an issue but less useful when there is no issue, we enabled log rotation, to prevent the local hard drive from being overloaded by unused logs.
The system will break down log files in 500 KB chunks and will only keep 10 of those files, which should give you about a week worth of logs for source capture.
Insight into a Capture log
Logs files are the best way to understand activities being performed by the system and potentially understand what is causing issues. We always recommend our users, involved in Webcampak configuration, to understand what logs are and how to access & read them.
A Sample log file taken from one of our systems is available for reference, we'll progressively go through it.
2017-03-01 16:30:13,290: System date and time
(INFO): Log level, anything other than "INFO" should trigger further investigations
webcampak: Our application
===START===: Log message, here beginning of a capture session
Before triggering a capture, Webcampak first activity will be to get ready for this capture, load config parameters, setup the timezone, prepare the capture file.
Then the system actually captures the picture, transfer the file locally and check its file size.
Webcampak will then apply all the configured manipulation to the picture. You can notice that some of the manipulations are being timed, to provide additional insights into which of the manipulations take time.
Configuration Logs
Webcampak also records configuration changes (who changed what when).
Due to the fairly low change frequency, those logs are not size-limited and will record indefinitely.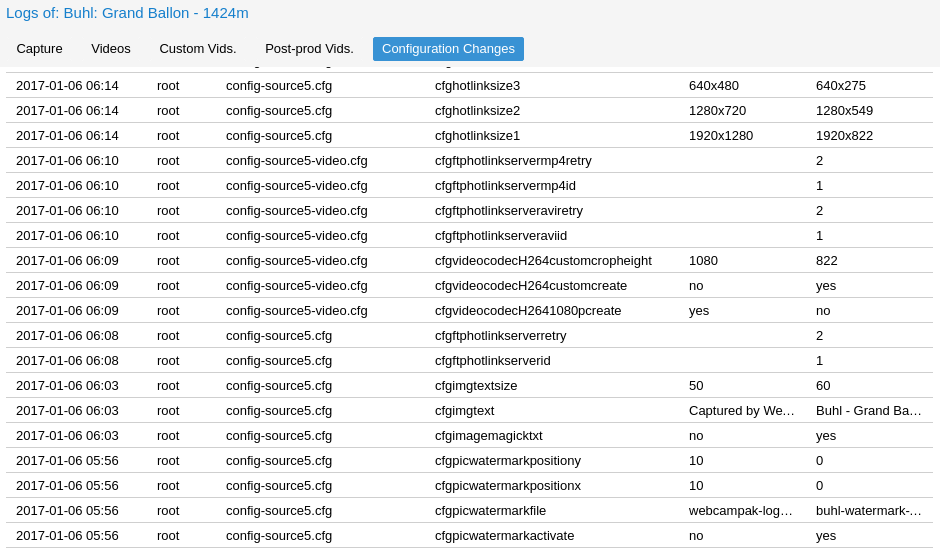 List of logged activities
The following activities are currently configured to be logged by webcampak
Per Source:
Capture process
Configuration changes
Daily videos creation process
Custom videos creation process
Pros-prod creation process
RRD graph generation
Per Webcampak:
General configuration changes
Email capture alerts
Daily reports
Statistics collection
Statistics consolidation
Cron jobs update
FTP accounts update
Xfer start
Xfer dispatch
(dev-mode only) All activities between UI and API